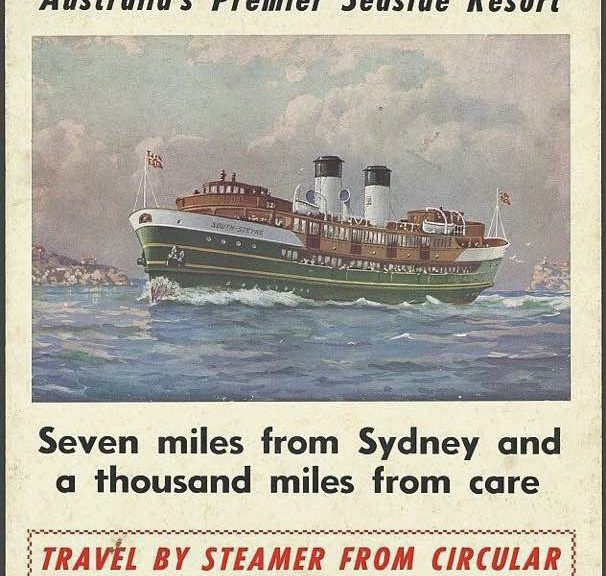 Manly seven miles from Sydney and 1,000 miles from care
The most famous line about Manly, NSW was coined by the Port Jackson and Manly Steamship Company as a promotion for the seaside village of Manly.   "Seven miles from Sydney and 1,000 miles from care" is as true today as it was then.  Where in the world can you commute to a major CBD by a fast & efficient ferry service; then return home in the evenings and live beside one of the best surf beaches in the world, enjoy splendid harbour side walks through National Parks, dine out at first class cafes and restaurants and enjoy the excitement of international level sports events.  One place, Manly.
Of all the international visitors who travel to Sydney it is estimated that 30% visit Manly for either an overnight stay or a daytrip.  The average number of international visitors to Manly over the past three years was 828,200 per annum.  Most arriving by ferry.
Manly, postcode 2095, is approximately 6 square kilometres. It has thirteen parks covering nearly 17% of the total area; is bound by the Tasman Sea to the East and Sydney Harbour to the South and West. Swimmers, surfers or sun worshippers can find their choice of nine major beaches and many other patches of ocean or harbour sand. Some beaches are surrounded by National Parks; some are only accessible by water; one has a clear fresh waterfall and all are picturesque.
Manly's European history dates back to the first settlement.  Shortly after the arrival of the First Fleet, Governor Phillip famously came to a cove and on sighting indigenous locals  commented on their "manly" appearance. Not long after one of those manly natives threw a spear at Phillip who suffered a non-fatal injury. Ouch! Obviously, the original inhabitants occupied the area for many years prior to European settlement.  Rock carvings, middens and other signs of an earlier Aboriginal culture can be readily found around the area. Sydney Road, which is the main thoroughfare into Manly, follows roughly the same path as a local Aboriginal track.
Manly, A Great Place To Live & Work
What a place to live in or work at.  Manly is well serviced with public facilities, including: three primary schools (one public, one Catholic and one Montessori) two Catholic High Schools, as well as the International School of Management located on North Head;  Manly Hospital; the Far West Home; Australian Institute of Police Management; Quarantine Station; North Head Sewerage Treatment Works; Bear Cottage; 3 Surf Life Saving Clubs (Manly, North Steyne and Queenscliff); Manly Marlins Rugby Club; Manly Golf Club; the newly expanded Boy Charlton Swim Centre; Manly Sea Life Sanctuary; Manly Art Gallery & Museum; Manly Wharf; Manly Local Court; Manly Library; Manly Police Station and until recently the Manly Council Cambers, which now form part of the greater Northern Beaches Council.  With an active retail shopping centre complimented by the nearby Stockland shopping centre in Balgowlah and much larger Warringah Mall in Brookvale.  A large and diverse restaurant, café and entertainment district serving the local and Northern Beaches area, with a wide variety of foods on offer from around the world and live music venues.
Young Hip & Ready To Spend
The population of Manly in 2011 was 15,079 showing a population growth of 8% over the previous 5-years. Quite a significant increase for a suburb with few opportunities for new land sub-division. Manly has in the order of 1,600 houses and 7,900 unit. Approximately 55% of all residential properties in Manly are held as investment properties; the predominant age group in Manly is 25-34 years. Households in Manly are predominantly childless couples and are likely to be repaying over $4,000 per month on mortgage repayments or paying in the order of $3,200 per month in rent. These young professionals tend to work in Sydney' CBD but have made Manly home in order to enjoy a beachside lifestyle. They have high disposable incomes and in terms of the quality of housing, have high expectations, whether they intend to buy or lease their residence.
At time of writing (March 2017) the median sales price of houses in the area is $3,070,000, whilst the median price for units is $1,460,000.
Can We Be Of Service
Shane Spence of Shane Spence Real Estate has been a real estate agent living and working in the Manly, Fairlight & Northern Beaches area for over 25 years.  Shane has a vast wealth of local knowledge and expertise in marketing and negotiating both sales and managing properties for lease.  If you are looking to move into the area, are thinking of selling or have a friend or family member requiring the services of an experienced agency, feel free to contact Shane for a confidential discussion regarding your needs.