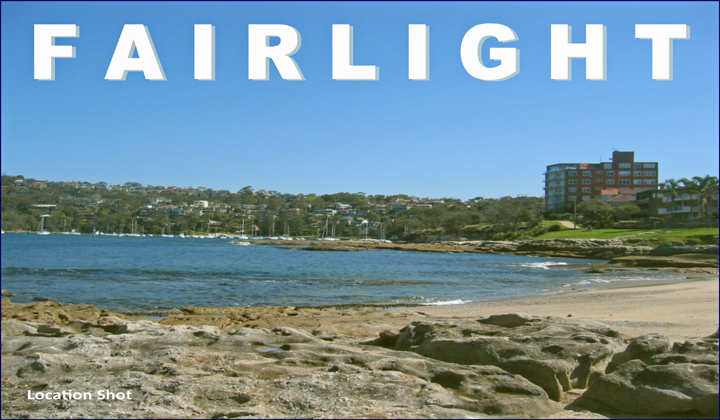 The following Property report has been extracted from CoreLogic.  Minor editing has been made.  For a full original and up to date copy of this report, feel welcome to contact Shane Spence.  The report from which this information was extracted was generated on 17 November 2021.
Fairlight is approximately 1.2 square kilometres. Making it one of the smaller suburbs in the local area.  It adjoins Manly to the East, Balgowlah to the West and Manly Vale to the North.  From a real estate perspective there are three distinct zones of Fairlight.  North of Sydney Road, which is predominantly houses which enjoy a northly aspect. South of Sydney Road, which tends to have a higher proportion of units, a southerly aspect but which may enjoy both water views, close access to Harbourside walks and beaches and walking distance to Manly Wharf.  Fairlight has 4 parks covering nearly 3% of total area. Sydney Road properties tend to form a third sub group impacted by the major arterial road in and out of the local area.
The population of Fairlight in 2011 was 5,489 people. By 2016 the population was 5,821 showing a population growth of 6.0% in the area during that time. The predominant age group in Fairlight is 30-39-year-olds. Households in Fairlight are primarily childless couples and are likely to be repaying over $4,000 per month on mortgage repayments. In general, people in Fairlight work in a professional occupation. In 2011, 62.4% of the homes in Fairlight were owner-occupied compared with 64.2% in 2016. Currently the median sales price of houses in the area is $3,307,500, however I note that this figure can vary considerably given the small number of house sales which may occur during any survey period.
There are 994 houses in Fairlight and 1,757 units.  Taking into account the average hold period of 13-years this means that 7.7% of properties should be available for sale in any one year. That is 77 houses and 135 units on average.  In the past 12-month period only 43 houses (median value $4,022,507) and 60 units (median value $1,865,978) were recorded as having been sold.
Houses: For Sale
Number Sold vs. Median Value (monthly)
Units: For Sale
Number Sold vs. Median Value (monthly)
Houses: For Rent
Median Asking Rent (12 months)                 Indicative Gross Rental Yield (12 months)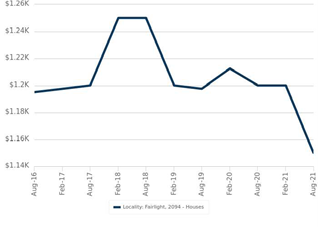 Units: For Rent
Median Asking Rent (12 months)             Indicative Gross Rental Yield (12 months)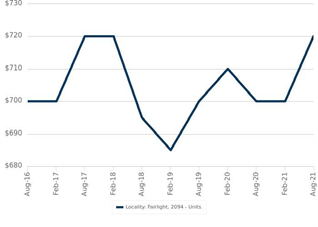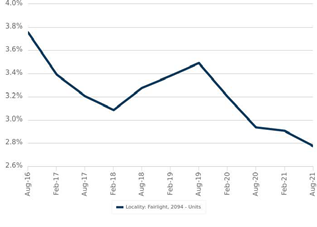 DISCLAIMER
Copyright
This publication reproduces materials and content owned or licensed by CoreLogic and may include data, statistics, estimates, indices, photographs, maps, tools, calculators (including their outputs), commentary, reports and other information (CoreLogic Data).
CoreLogic Standard Disclaimer
The CoreLogic Data provided in this publication is of a general nature and should not be construed as specific advice or relied upon in lieu of appropriate professional advice .
While CoreLogic uses commercially reasonable efforts to ensure the CoreLogic Data is current, CoreLogic does not warrant the accuracy, currency  or completeness  of  the CoreLogic  Data and to  the  full extent permitted by law excludes liability for any loss or damage howsoever arising (including through negligence) in connection with the CoreLogic Data.
This publication contains data and statistics provided by the Australian Bureau of Statistics, available at http://www.abs.gov.au/ and reproduced under Creative Commons Attribution 2.5 http://creativecommons.org/licenses/by/2.5/au/ legal code .
Mapping Data
A map showing an area or boundaries of a property is indicative only and may not be complete or accurate.
State and Territory Data
Contains property sales information provided under licence from the Land and Property Information ("LPI"). RP Data Pty Ltd trading as CoreLogic is authorised as a Property Sales Information provider by the LPI.
If you have any questions or concerns about the information in this report , please contact our customer care team.
Within Australia:  1300 734 318
Outside Australia: (+61) 7 3114 9999
Email CoreLogic at customercare@corelogic.com.au